AFYA Health Program
The AFYA (Health) Program deals with health-related challenges in the community. Our goal is to improve health, change the perception of health, and increase access to medical facilities. For this purpose, we have various projects that enable us to:
– Increase awareness, especially about the prevention of prevailing conditions.
– Improve the operation of the local facilities, like the dispensary.
– Improve health access, related to activities in the schools.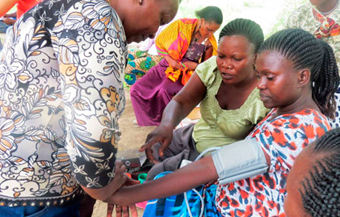 What we achieved
Since we started to work in Msitu wa Tembo and Londoto, seven community health workers have been trained with more than 30 classes given by doctors, nurses and healthcare professionals, and have passed their exams. They have carried out an important prevention campaign within their community, with 18 interventions thus far (in medical caravans and prevention campaigns), dealing with more than 10 areas of concern.
Since the beginning of the programme in 2014, there have been medical caravans twice yearly with an average of 150 patients seen each year. Every caravan provides a free consultation and affordable or free treatment for one day, thus reducing the dispensary expenses and increasing the trust of the people in the dispensary
What we are doing
Project – Kucheza ni Afya (Playing is Health). The goal is to improve the availability of sport in schools, which leads to better health (both emotional and physical), and introduce healthy habits for school children. We coordinate 14 training sessions for basketball and touch rugby a month in three schools, as well as three health campaigns a month. This way the children can learn healthy habits related to sport, and also enjoy theatre shows prepared by the Community Health Care Workers in order to learn about health. A total of 1,100 children study in these schools and our goal is to reach them all through these campaigns.
Project – Medical Caravan. Two medical caravans are provided each year which provide care to over 150 patients.
Project – Chronic Illnesses Survey. We already have the information from a representative community sample, which we are now analysing to get epidemiology information on: hypertension, tobacco use, diabetes, and alcoholism. This information is being collected to understand the prevalence of these problems, and share and discuss them with local healthcare professionals.
Project – Health institution strengthening. We work together with the government dispensary, as well as community health workers and home based care workers, to strengthen the network of health care providers in Msitu wa Tembo and Londoto. Educational seminars are conducted as well as home visits to chronically ill patients.
Our team
Our Project Manager, Samweli, coordinates the activities. For health interventions, Samweli works together with Sarah (Facilitator of the Women's Empowerment program). The caravans are organized by the Afya team of volunteers (generally, students from various healthcare programs), and in collaboration with the NGO, Pamoja Tunaweza.
Nexts steps
– Improve the sports sessions and reach more children, as well as introduce new topics in the health campaigns in the schools and the community.
– To introduce systematic de-worming as part of our interventions in the schools.
– To continue to improve our caravan and provide more possibilities of monitoring chronic illnesses.
– To complete the analysis of the survey and share the results with the dispensary, the District Medical Office and Community Health Workers.
Related articles with AFYA Program: